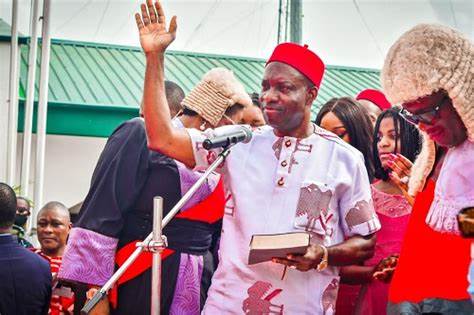 Inauguration of a new leader is an opportunity to start afresh. It is a big day for the incoming authority as well as a solemn day for the outgoing authority. It is a transfer of leadership which carries a lot of emotions.
The colourfulness of inaugural events, choice of music and clothes are often symbolic. In his case, Prof. Chukwuma Soludo wore white top designed with an embroidered eagle, positioned upwards on his chest. White symbolises peace and unity, while the eagle symbolises authority, courage, inspiration and his vision. The red cap, though cultural, symbolises leadership.
Dignitaries from all walks of life attended the event and the masses stayed close to their radios and televisions. There was eagerness to hear from the man whom many believe will transform the state. Inaugural speech is often the hallmark of the event aside from the taking of oaths and that is why the speech is very important.
Inaugural speech is important in several ways. It is an embodiment of the vision of the incoming authority. It is an appraisal and an interpretation of the political moment where there is a choice to chart the course of peace, provide visionary leadership that unites the people, radical enthronement of a new philosophy and bringing a new ideology to solve existing problems.
The rendering of the speech by Governor Soludo with a high-pitched measured voice, signalling authority and leadership, yet, humane and sober, he presented a riveting speech that not only appraised the current socio-economic problems of the state, but also provided a new philosophy that would guide his vision.
"Pan African market progressivism", is a new philosophy on which Soludo based his vision for Anambra state. Soludo espouses Pan Africanism with Dr. Nnamdi Azikiwe (Zik) philosophy at its foundation.
Zik's philosophy is based on five principles of spiritual balance, social regeneration, economic determinism, mental emancipation and political resurgence. In which the usefulness of any concept or idea lies in the practical solutions to the problems of society gearing towards the liberation of man and the satisfaction of his needs in society.
In formulating his new philosophy, Soludo adopted the neo-welfarism of Zik, Socialist ideology of Awolowo and democratic humanism ideology of Aminu Kano.
Neo-Welfarism as Zik defined in "Ideology for Nigeria: Socialism,Capitalism or Welfarism?", it is "An economic system which blends the essential elements of Capitalism, Socialism and Welfarism in a socio-economic matrix, influenced by indigenous Nigerian mores, to enable the state and the private sector to own and control the means of production, distribution and exchange, whilst simultaneously enabling the state to assume responsibility for the social services, in order to benefit the citizens according to their needs."
Read Also:
Pan African market progressivism as Soludo defined it "is a Pan Africanist ideology that integrates the social democratic values with the principles of competitive markets."
To further explain his new ideology, he said, " what we propose is that we collectively build a new social and economic order that guarantees and defends economic freedom and reward of private enterprise to secure our future such that any child born in Anambra will have little incentive to rush elsewhere in search of opportunities and anyone persecuted anywhere in the world can return to a happy and prosperous homeland."
Pan Africanism encourages solidarity among the peoples of Africa and as such solidarity among Ndi Anambra for the progressive development of the state.
What the speech entails is that the Soludo administration will channel the peoples' solidarity towards individual and collective progressive development in support by the state while exploring and benefitting from the competitiveness of the open market within the state, across the country, continent and world for the good of the people.
As Soludo preached hope, pains and value, he was quick to remind people that he does not have a magic wand but the new order of fair share of responsibility between the people and the state will guarantee the happy and prosperous homeland. He said, "Such a new order will, of necessity, entail a massive disruptive change and creative destruction, with short-term pains but guaranteed long-term benefits. As a humane and progressive government, we shall strive to deliver the difficult change with a human face."
With progressive view in mind, Soludo also displayed a nationalistic view of think home in his "One Anambra, One People, One Agenda" where the "Made in Anambra" in "Anambra Standards" – and buy Anambra policy will be promoted. To achieve this, he called for "a rebirth of our value system."
While promoting public-community-private partnership (PCPP), he proposed a framework where the private sector and communities will adopt schools, build roads/infrastructure, manage government assets, participate in sanitation and securing law and order, He submitted that, "There is a subtle but powerful revolution underway, raising the bar on our age-old community development model." He concludes that the government will "incentivize and unleash the momentum."
On agitation for fairness, justice, equity and equality in the Nigerian Federation and especially for a separate state, Soludo talked about the non-land Igbo assets scattered all over Nigeria and the world as he submitted that Ndi Anambra "needs Nigeria and Nigeria needs us. We need Africa and the world and they need us." He admonished the agitators against violence and constant sit-at-home reminding them that, "No group has ever succeeded in any struggle in history by turning the sword against themselves."
For a new Anambra to emerge, Soludo said, "We will mainstream our values of hard work, integrity, compassion, and sanctity of life." These are values on which the sought for progress and development lies.
The speech, in over 4000 words, touched most aspects and can be described as; powerful, deep, hopeful and agitating.
It is a call for peace and unity and laying new foundations on which the new Anambra and Igbo land will be based.