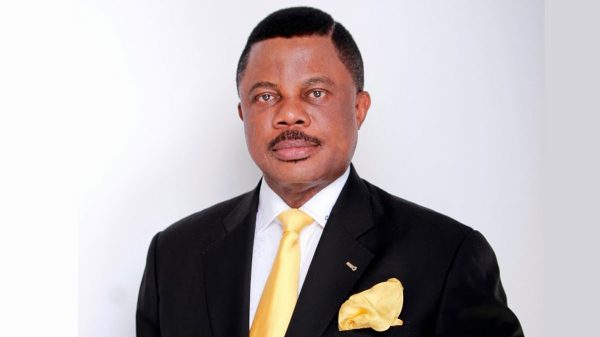 It always makes the heart fonder when one is about to leave a place he has settled in for a while. It makes one feel a part of his being leaving him. In the case of Governor Willie M. Obiano who has spent eight years in the stewardship of Anambra State, he would be nostalgic as he will be brave to face the next day as the former governor of Anambra state.
As he moves on to the next stage of his life, Obiano may have regrets in things he could not do well as well as pride in what he achieved for the state but to him, he said, "I am happy and I don't need anybody to tell me that I have done well; I know I have done well."
Anambra is not a state to be governed by those who are unsure of what they came to do but Akpokuedike as he is fondly called, faced opposition and public scrutiny and antagonism that was based on his penchant to "drinking" and his managerial skills.
Obiano came to politics and governance from the financial world. There were hopes that he would manage Anambra's resources better than he met it. But he was left to battle it out with people's perception that he was in the office to squander the state's resources.
Akpokuedike caused some of his problems when he started an attack on his predecessor whom the people held in high esteem who also has a well-oiled media team that presented that government as all achieving. How could Obiano start off with such a fight?
It is seen as normal in the Nigerian politics that godsons would fight their godfathers once after swearing-in and that was the first fall of Obiano in the eyes of the people.
His first tenure was turbulent even as he unveiled the three poorly designed and poorly constructed flyovers he erected at Awka which instead of solving the problems of traffic, have caused more traffic.
As an observer, there were many missteps that Obiano had including his phantom exportation of Ugu and Onugbu vegetables. His wife Osodieme Ebelechukwu, who revels in wearing expensive designer sunglasses that could earn her gucciebele as an alias, and Obiano's love for fashion, set the administration out as those not for governance but for frivolities to be funded by Anambra's resources.
One good thing is that Anambra workers were taken care of by the Obiano administration. In fact, his campaign for second term largely hinged on this, even though it was his statutory duty to pay workers. That cannot be taken as an achievement if not for the acceptance of mediocrity in governance.
Obiano is accused of borrowing so much but in his second term in office, he silently embarked on etching his name on some legacy infrastructure. According to what he told reporters, "I built the airport, the stadium and the convention centre and other projects in the state without borrowing money from anybody or financial institution and the airport we built is one of the best in the country. We built 18 bridges and 131 roads were completed across the state and all these were made possible because I applied my fund management skills."
Read Also:
Not only that, Obiano got Anambra approval of the Presidency to be recognized as an oil producing state which the state will begin to benefit from the 13 percent derivation fund. The state also gained attribution of about 11 oil wells.
These achievements are enduring and Obiano could not achieve these if he didn't play the right politics. He knew when to go cap in hand and when not but this is a man eager to rest, who is likely to be in a hurry to hand his successor his cap. "When I came in as governor, I was fresh and better, but now, I have slimmed down because I have been working day and night to make our state better." Obiano said.
Obiano has failed in securing the state. The security situations across the state will stick out like a sore thumb on his achievements which made him out as one who is not fully in charge. Under his watch, the streets of Anambra state have been taken over by criminals who take lives on a daily basis. Development thrives in a peaceful environment.
Akpokuedike has demonstrated political maturity for bequeathing the state to Prof. Chukwuma Soludo who many hope will perform even better than Obiano. Many politicians often endorse those they can control to succeed them but Obiano did otherwise.
As he bows out from his eight-year service, despite some of his failures, Obiano will be highly remembered for the airport and the inclusion of the state as an oil producing state. These will award the state the resources to continue to grow and develop.